2005 AOUND THE WORLD
RUSSIA- EUROPE
JACEK
Kyrgyzstan
1376 km in 3 days

























In Kazakhstan just before the Kyrgyz border, I decided to go on my own due to time restrictions. I spent 3 days in Kyrgyzstan navigating my bike through snow-capped mountainous roads and enjoying great views.
Kazakhstan
1745 km in 3 days









I ploughed through famous Kazakh steppe roads, stopping in Turkistan and Aralsk.
Russia/Belarus/Poland
4025 km in 5 days








Before visiting Moscow, I headed for Kirov Region where my family (my grandparents and their children - my grandmother didn't survived) spent 6 years during World War II. They were sent there by Stalin's regime to a labour camp. Nasty muddy roads prevented me from reaching Pieskovka, the village they were staying. I was 20 km from the place their horrible ordeal.
Europe/Poland
Germany/Holland
1350 km in 3 days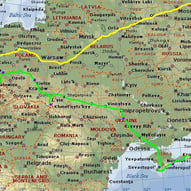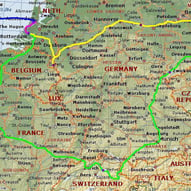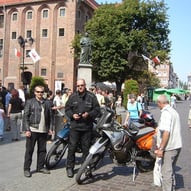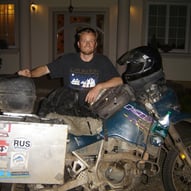 I spent 5 days in my hometown, Torun, with my parents and my brother and his family. Then I headed to the Netherlands to complete the trip. I stopped in Maastricht to visit my good friend Miriam whom I met in Egypt in 1998.
Day by day in Kyrgyzstan, Russia, Europe (8500 km):
Day (43) – Aug 13, Kyrgyz border to Uchkun - 630 km
Day (44) – Aug 14, Uchkun to Bazar – 280 km
Day (45) – Aug 15, Bazar to Kazakh border - 466 km
Day (46) – Aug 16, Kazakh Border to Turkistan– 365 km
Day (47) – Aug 17, Turkistan to Novokazalinks – 510 km
Day (48) – Aug 18, Novokazalinks to Kosterek – 570 km
Day (49) – Aug 19, Kosterek to Buzuluk, Russia - 665 km
Day (50) – Aug 20, Buzuluk to Igra - 730 km
Day (51) – Aug 21, Igra to Orlov – 430 km
Day (52) – Aug 22, Orlov to Moskva – 980 km
Day (53) – Aug 23, Moskva to close to Minsk – 640 km
Day (54) – Aug 24, Minsk to Torun – 880 km
Day (55) – Aug 25, Torun
Day (56) – Aug 26, Torun
Day (57) – Aug 27, Torun
Day (58) – Aug 28, Torun
Day (59) – Aug 29, Torun
Day (60) – Aug 30, Torun to past Magdeburg, Germany - 600 km
Day (61) – Aug 31, Magdeburg to Maastricht - 550 km
Day (62) – Sept 1, Maastricht to Rotterdam - 200 km
Day (63) – Sept 2, Amsterdam – 0 km – flight to Canada