Preparations
This paragraph will be short. No visas required. No papers required. I changed tires, spark plugs, air filter and bought a new visor for my helmet. End of story.
Riding through Michigan, Indiana, Illinois, Wisconsin, Minnesota
I left from Oakville on Monday, July 29. After a rainy Monday morning, the remaining two days didn't bring any surprises: flat, monotonous, and agricultural Midwest. The two largest American rivers, Mississippi and Missouri, suddenly changed the landscape. The first surprise was the price for a site at a campground just north of Chicago: US$23!
South Dakota
West half of South Dakota greeted me with dry air and scorched hilly steppe. Barely any vehicles shared the road with me. This was what I wanted to see: the Wild West
North American phenomena are museums created to entertain travellers. One of such a attraction was 1880s Town in South Dakota. Bunch of buildings from the end of the 19th and beginning of the 20th centuries had been moved to a museum located right on Interstate I-90.Convenient locality helped me (and many other tourists) to decide to pay a visit.
My first park of many I was to visit during this trip, happened to be Badlands National Park. The landscape reminded me of Cappadocia in Turkey.
There I met Andreas, a BMW rider from Kentucky. We expressed lack of understanding for Harley-Davidson riders and their affection to those loud beasts. My first "off-road" took place in Badlands - a soft gravel road. I almost wiped out, but happily after riding literally off-road (on the grass) I managed to get back on track. Andreas skillfully took a picture which he emailed me later:
Another attraction, Mount Rushmore, happened to be not that attractive - a carved mountain with four presidents. It took me 10 minutes to see it.
In this part of the USA, I felt surrounded by H-D riders. Later I learnt that there would be a rally in a nearby town, Sturgis. I still wonder why such a rally lasts a week. How long can you ride up and down the main street to show off your shiny and noisy machine. Wouldn't they prefer to ride the country instead? Many of the riders I saw, had a well developed beer muscle and were of serious age: 40-60.
Wyoming greeted me with a sudden and severe northerly wind. This wind changed the weather for the next few days. I decided to stay for the night in Gillette. I was barely able to pitch the tent in these gusty conditions. By a chance I came across a rodeo competition. Wild Wild West at its best.
The next day I entered the spectacular Rocky Mountains. I took road 14A through the Big Horn Range: great views and excellent motorcycle roads - and that was only the beginning of my 4-week affair with twists and turns. My Interceptor clearly loved the roads. I could tell this by listening to happy humming of the engine.
Yellowstone, the first ever and the largest national park in the world, is huge, impressive and beautiful.
I spent the whole day visiting most of the attractions: terraces, geysers, wild life, mountains, waterfalls, canyons. A great place.
In the park, the drivers became quite annoying. As soon as they noticed an animal, they would stop frantically and take millions of pictures. I followed the custom.
The roads in the park were very well signposted - just as in all national parks in the US. I would say, too well. There were signs of the following message: "beyond this point there is no restrooms!" or "beyond this point there is no drinking water." (The trail was 1/2 hour long!) It seems that Americans are used to many warnings. No wonder that they never venture to more challenging countries. In less developed (read: more attractive) countries there are no warning signs to caution you of a potential danger (no restrooms!) and no one to think for you. Be cautious and think for yourself!
I spent the night in the neighbouring Grand Teton National Park.
The temperature at night plummeted to a cold +5C. The park itself was pretty and much less crowded than the Yellowstone. At one of the stops, I met a Japanese couple who astonished me with their lack of map reading skills. They had no idea where they were..
I rode through Idaho without major stops - just gas and food. Montana was a diffeerent story: astounding landscape consisting of remote snowcapped mountains and gently rolling hills. Remember these highways: #15 and #287 - free of usual American traffic. My bike hummed happily: I was speeding.
When I arrived in Glacier National Park in Montana in the evening, I was very surprised to learn that I made 975 km that day. The roads were so motorcycle-friendly that the time and kms went quickly and unnoticeably. Since I was heading north, the temperature dropped to about +8C in the evening. I had a bit of a fever for the next couple of days.
I enjoyed the stay at the hostel in East Glacier. It had a European feel to it as well as a lot of European travellers. The weather was less friendly: it rained overnight. I was hoping for the weather to clear up but it didn't happen. I set off around 11 AM prepared for more rain and cold temperatures: I put on everything I had.
Light drizzle accompanied me until early afternoon. The road that crosses the park - Going To The Sun Road - was engineered in 1930s and is still quite spectacular. The other side of the range was much warmer and sunnier.
Cold weather forced me to give up camping that night. Spokane, Washington, was warmer but I was still shivering after the long ride through the mountains. I stayed in a motel.
Another day, another park: East Cascades National Park.
What a road!! I think this was one of the best roads I rode this summer: perfect surface, wide, no traffic, terrific views. My bike had a workout. Later on I caught some more drizzle and the temperature dropped to mid-teens.
I arrived in Bellingham later on this evening. The next couple of days I was to spend with my friends, Sebastian and Ania, who were staying with their relatives. I am grateful for their hospitality.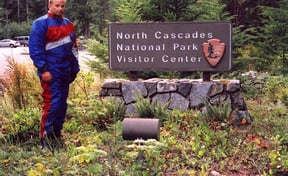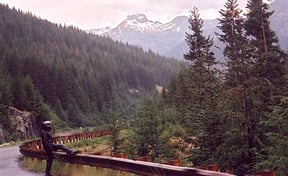 My bike was resting for the next 2 days, while Sebastian, Ania and I explored Vancouver and Victoria. Vancouver was a friendly city, though a bit crowded - this is what happens when there is some much water around the city. One thing that was shocking was the amount of street people on Hastings street: hundreds. This section of the city did not feel safe at all.
Even though Victoria is a large city, low 3-4 stories buildings help to give an impression of a small town. We visited all the attractions and decided that Victoria would be a neat place to live after retiring.
Both days we had problem crossing American-Canadian border. Can you believe this: Canadians having problems on the Canadian border?! Sebastian and Ania were staying with their relatives in Bellingham for two weeks and they rented a car in Bellingham. According to some weird regulations, Canadians are not allowed to bring American plated cars into Canada. The reason is that they may try to sell the car without paying duty on it. I still don't know how can I sell rented car. On the second day we crossed the border again (staying in Bellingham and visiting Victoria), the border officials kept us half an hour for explanation. As a result we missed a ferry. We spent less time in Victoria than we wanted. After a few day when I was gone conquering the rest of the West Coast, my friends tried to cross the border for the third time. That time they were denied! They were treated as criminals who were smuggling cars to Canada. Sebastian was really pissed.
I thanked my hosts for their hospitality, and headed towards Seattle. Well, it was just another city. I visited the EMP - Experience Music Project - a rock music museum. I am glad that I had the experience but would recommend it only to those who are totally crazy about rock. Americans are pretty good at building museum but under the surface there isn't much. While I was "experiencing" the music project, my bike was waiting for me parked on the street. I was happy to see that no one got interested in it and nothing got lost. I don't think anyone would steal a 1986 Honda. That's why it is so much trouble-free to travel on an older machine.
Even though you could see Mount Rainier (another National Park) from Seattle, it took me a few hours to get there. Of course, there were more great roads again. I spent the night "under the volcano." I like the way campground are set up in national parks: there is always a lot of trees, the lots are large and you can smell nature.
The next day I visited another volcano, Mount Saint Helen. The volcano erupted in 1980 destroying all the trees within a radius of 20 miles or so. Guess what: more twist and turns. I love riding in the mountains.
I reached Columbia River Gorge in the afternoon (a popular place for windsurfing: winds are travelling east, the river is travelling west),
crossed the river and decided to spend the next couple of days on the west coast enjoying "warm waters" of the Pacific... Yeah, right..
The weather in the Gorge and Portland (just passed through the city) was warm: over 30C. I was ready to jump into the ocean. It was getting dark. 50km or so before the coast I noticed suspicious smoke overhead. I figured there must have been fire nearby. Suddenly, I felt moisture on my knees! The smoke was a cloud of fog rolling over from the Pacific. What a disappointment! My tent got wet overnight.
It was cold and this was the weather I was to experience for the next few days. Fog and a variety of cliff formations created some interesting sights. But it was cool while riding (+18C) and very warm when resting (very sunny day).
Weekend traffic was another factor that contributed to my negative impression of the West Coast. In Winchester Bay where I stayed for the night, I went for a beer to a local bar (Saturday night). The locals were friendly, the live rock band was good, but where the heck were local girls!!?
I got to Oregon Dunes Recreation Area. The nature was interesting but I didn't take my helmet off when walking through the dunes. It was windy! Parts of the Dunes Area are designed to be used by so called "dune buggies" and off-road motorcycles. I wish I lived nearby. I would be able to prepare myself for a trip around the world practicing there.
Tired of being cold, I decided to go inland the next day. 20 km inland it was 25C. 50km - 30. 100km - 40 C. The air was dry and full of smoke - a result of desert climate and recent wild fires. As a friendly local informed me, those smoky conditions may remain for weeks and months at a time. What is better for a biker: smoky heat of +40C or windy moisture of +16C? Probably mix of both.
I crossed the California border in this heat.
Bought Lonely Planet's California and Nevada guide in Redding (+42C), was not able to find campground before it got dark and decided to try my luck on one of the side roads. I found a nice secluded spot behind a tree. It was warm, so I opted for no-tent setup for the night, the same way cowboys used to do that: lie down on the ground and sleep. Only four cars disturbed my rest overnight. Morning was a bit chilly (12C). The ground where I slept was still warm from the previous day's heat.
I decided to enter San Francisco through the Golden Gate Bridge. In order to do that, I took highway#1 which runs along the coast. It was as cold and foggy as in northern Oregon. I came across some crazy surfers: air temperature +14C; water temperature: +10C. This is COLD! More great roads: last 40 km before the Bridge I was using the 1st, 2nd and sometimes the 3rd gear only.
San Francisco is great place to visit: so many twisty road around the city! The city itself is friendly, but without many astonishing attractions. The attractions include: the Golden Gate Bridge, street cars, hilly streets and Alcatraz. From a motorcyclist point of view, steep hills are most memorable. Another thing I will remember is the filthy hostel I was staying at. There must have been an earthquake in the room before I got there.
In the hostel I met two German girls travelling the Americas. Susi was riding a BMW 650GS and Claudy was riding an Africa Twin!! I wish this motorcycle was available in North America! The gilrs' website is www.girlsontour.de.
Slightly disappointed with San Francisco, I left the next day for Yosemite National Park. 40km away from the coast, the temperature reached 40C again. I changed oil in one of small cities I passed by. The guy in the first garage I inquired, asked for $4 disposal charge. Give me a break! Another garage was a FastLube Service (or something like that) where the mechanics were young boys fascinated by the idea of travelling on a motorcycle. I didn't have to pay for disposal. I even got a litre of free oil from them.
I arrived in Yosemite National Park late that evening.
The first campground I stopped at was full. I decided to find some travellers who would be willing to share the site and split the cost with me. The sites were really large. Two guys from the Netherlands, Jack and Bas, were more than welcoming. Not only they let me pitch my tent on their site, but we also had some whisky and shared the stories. At night the temperature dropped down to +4C.
The park is very beautiful. It is not far from San Francisco, so as a result there are lots of tourist driving around (very slowly) around the park. Roads are great but slow: buses, cars, bicycles, pedestrians. Too much.
The same day I moved on. Before sunset I arrived at the Kings Canyon/ Sequoia National Park. Another great place to take numerous pictures. Kings Canyon is similar to Yosemite Valley but much more peaceful and less crowded. Sequoias are grand and simply astonishing in their size.
Again, it took me less than a day to see the most important sections of the park. My plan was to reach the Death Valley for the night, but distances occurred to be too excessive. After crossing huge peach farms south of the Sequoia Park, I found a place to sleep in high range of Sierra Nevada mountains behind a gigantic rock ("cowboy" style). The place was quiet. The only thing I heard were various insects crawling on top of my sleeping bag.
While passing Sierra Nevada, I had to change the route. One of the roads was closed because of wild fires in the area.
In fact, the air became very hot and dry. No wonder there are so many fires in California. The California desert welcomed me with even hotter and drier air. I recalled desert riding in the Sahara. I really like this sort of climate.
Death Valley is simply deadly hot: 52C
It was so hot that I had to change my fingerless gloves for my regular leather gloves used for cold temperatures to protect my fingers from the heat. After visiting all the important and famous places, I found a quiet place to sleep in the bed of a dried-up river. I don't know how I fell asleep. It was still around 40C.
The next morning I decided to leave the place as soon as possible. Too hot. My bike was putting up with the weather much better than me. My hopes for more comfortable weather shattered mercilessly as soon as realized that Nevada would not be much cooler. Roads very often very straight for 40-50 km. Desert all around. No sign of civilization, until I reached Las Vegas.
Las Vegas was fun. Amazing architecture, colourful casinos (I actually won $150), a lot of live music, sound and light shows. I spent two days enjoying easy going atmosphere of the city (I prefer downtown Las Vegas as opposed to the famous Strip). I also visited the Hoover Dam during the day.
Before leaving Las Vegas, I had some problems starting the bike up. I checked the battery and... Well, the battery liquid levels were zero or near zero. I figured that the reason for it was the boiling temperature in the California and Nevada deserts. I quickly fixed the problem by adding water to the battery.
Arizona was as deserted as Nevada. However, there were some forests near the Grand Canyon. I reached the Grand Canyon Park late afternoon and managed to have a glimpse at the "big hole" during the sunset. Nice.
The next morning I hiked down the Canyon about haft the depth (600m). It was a rewarding experience to see the "hole" from within. I almost got rained down but was able to find a rock shelf under which I survived a 15-minute pouring
The road to Utah lead through Navajo Reservation. While having traditional Navajo fried bread for dinner, I found out that a famous place very often seen in Hollywood westerns was not far away. I drove another 40 km after dusk to reach the Monument Valley.
One of the reason I enjoyed the Valley so much was that I didn't plan to be here. It just appeared on my route. Near the entry to the park, I noticed bunch of Harley-Davidson riders who changed their vehicles to a pick-up truck with seats for the tour of the valley. They wouldn't risk a 15 km ride on sandy dirt roads on their shiny machines. While I was crossing shallow dunes on my fearless horse, they had to endure inconvenience of the bumpy road in a truck.
The Monument Valley, Arizona - in the morning, Mesa Verde, Colorado - in the afternoon: the day was packed with attractions, as always. Parts of the Mesa Verde Park were available for viewing only with an escort of park rangers - supposedly because some tourists wouldn't respect the ruins. What a joke.
I decided to press hard on the throttle and reached Moab (Arches Park) for the night. I don't like riding at night, but it seemed I had no choice that day. Moab appeared to be a very touristy town. I really enjoyed my campsite, especially the hot tub.
I spent the morning in the Arches park - very picturesque.
Colorado river must be one of the most beautiful rivers in the world. I took the road the lead up the stream of the river (#128). Later the road turned into a freeway (I-70). A lot of turns and twists, great views, pavement of the highest quality.
That day I was chasing a powerful storm and had to stop once in a while to avoid catching it eventually. It got really cold. I found a "self-serve" (an American phenomenon) campground in Vail, Colorado. In the winter time, Vail is famous for its great skiing. It felt like winter in the morning: when I woke up, the thermometer was showing +1C (altitude: 2500 m above sea level). I put on everything I had and still was very cold. Brrrr.....
There was another great mountain road, #40, towards the Rocky Mountain National Park. I crossed the Barthoud Pass (elevation 11,307 ft / 3,618 m) along with trucks, cars and what not.
But that was not the highest elevation I was to conquer. There was the highest paved road in the US: elevation 3713 m. My Honda was really struggling for oxygen.
The Rocky Mountains Park was the last attraction I was to see. And what a great finish of my mountain riding: road #34 from the Park to Greeley! Surely it must be one of the favourites among riders from Denver. You could see it by a number of bikers enjoying the road and a number of police traps situated along the road.
BACK: NEBRASKA, IOWA, INDIANA, MICHIGAN
Last two days I spent in a painful riding position - the prairie freeways were unbearable: straight and flat.
The speedometer cable broke that day. In order not to run out of gasoline, I had to count miles by checking the road posts. On Saturday I decided to ride as far as possible until I got tired. The fog was so thick that I slowed down to 40-50 km/h. I got off the highway in Kalamazoo, Michigan. I found a closed corner store. In front of it there was a nice flat box for firewood. This was to be my bed that night. To keep warm, I didn't even take my helmet off. I calculated kilometers: this was my single day record: 1380 km. I had been riding for about 15 hours.
The last leg of my trip was 568 km long. I arrived in Oakville late afternoon on Sunday, August 28 covering 15,200 km in 28 days. My old Honda passed the test with distinction.
Personal Observations
American drivers use cruise control extensively. If two cars pass each other on the Interstate, one is moving 65 mph and the other 66 mph, the process of passing takes ages and the faster cars behind the two have to wait and wait. Just step on it, pass and then slow down!!
Traffic police acts in a weird way. I witnessed the following incident. A police cruiser was passing all the cars. He was maybe 8-10 miles over the limit. A few cars were following the cop. As soon as the cop changed the lane from left to right and slowed down, one of the cars naturally began passing the cop with the difference in speed 1 or 2 mph. The cop pulled over the "faster" driver and probably gave him a ticket.
Some of American states don't require motorcyclist to wear helmets. Of course, who would bother wearing one if it is not required? Well, I'll tell you who: All those riders who don't like flies between the teeth, who want to have some hair left after a ride, who don't want their skin to get burned during the ride. These characteristics don't fit any of the Harley-Davidson riders. I also saw a number of pick-up trucks carrying H-D's on their backs. Why don't they just ride their bikes? Afraid it is going to get dirty? Later on I found out that there was a rally in Sturgis - the biggest rally in the US.
I noticed that my motorcycle was unique. All other bikes were Harleys or Goldwings (no helmets of course). I was trying to be cool too and rode a bit with no helmets, but couldn't go over 50 km/h - too cold!!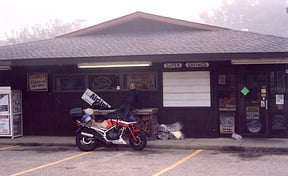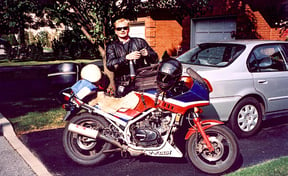 STATISTICS
July 29 - August 25 2002. 4 weeks.

Continents visited: 1. Countries visited: 2. States and provinces: 18

Kilometers: 15,200

Gasoline: 780 litres

Motorbike used: 1986 Honda Interceptor VF500

Equipment failures/problems:

broken speedometer 2nd last day of the trip.

Pictures taken: 400

Cost:

gasoline: $CAD 560

other: $CAD 1600

Total: $CAD 2160
TRIP SUMMARY
Day 1. Monday, July 29. Oakville, Ontario - Marengo, Illinois. 929 km.

Day 2, Tuesday, July 30. Marengo, Illinois - Kennebec, South Dakota. 1119 km.

Day 3, Wednesday. Kennebec, South Dakota - Gillette, Wyoming. 707 km.

Day 4, Thursday, August 1. Gillette, Wyoming - Yellowstone, Wyoming. 277 km

Day 5, Friday, August 2. Yellowstone, Wyoming - Grand Teton, Wyoming. 274 km.

Day 6, Saturday, August 3. Grand Teton, Wyoming - East Glacier, Montana. 975 km.

Day 7, Sunday, August 4. East Glacier, Montana - Spokane, Washington.615 km.

Day 8, Monday, August 5. Spokane, Washington - Bellingham, Washington. 584 km.

Day 9, Tuesday, August 6. Vancouver, BC. No riding.

Day 10, Wednesday, August 7. Victoria, BC. No riding.

Day 11, Thursday, August 8. Bellingham, Washington - Mount Rainier, Washington. 370 km.

Day 12, Friday, August 9. Mount Rainier, Washington - Seaside, Oregon. 645 km.

Day 13, Saturday, August 10. Seaside, Oregon - Dunes City, Oregon. 369 km.

Day 14, Sunday, August 11. Dunes City, Oregon - Clearlake, California. 738 km.

Day 15, Monday, August 12. Clearlake, California - San Francisco, California. 353 km.

Day 16, Tuesday, August 13. San Francisco, California - Yosemite, California. 407 km.

Day 17, Wednesday, August 14. Yosemite, California - Kings Canyon, California. 413 km.

Day 18, Thursday, August 15. Kings Canyon, California - Johnsondale, California. 370 km.

Day 19, Friday, August 16. Johnsondale, California - Death Valley, California. 597 km.

Day 20. Saturday, August 17. Death Valley California - Las Vegas, Nevada. 363 km.

Day 21. Sunday, August 18. Las Vegas and around. 135 km.

Day 22. Monday, August 19. Las Vegas, Nevada - Grand Canyon, Arizona. 478 km.

Day 23. Tuesday, August 20. Grand Canyon, Arizona - Monument Valley, Arizona. 323 km.

Day 24. Wednesday, August 21. Monument Valley, Arizona - Moeb, Utah. 554 km.

Day 25. Thursday, August 22. Moab, Utah - Vail, Colorado. 513 km.&nbbsp;

Day 26. Friday, August 23. Vail, Colorado - North Platte, Nebraska. 740 km.

Day 27. Saturday, August 24. North Platte, Nebraska - Kalamazoo, Michigan. 1380 km (my one day record - ouch!).

Day 28. Sunday, August 25. Kalamazoo, Michigan - Oakville, Ontario. 568 km.
TOTAL: 15,200 km.