2005 AROUND THE WORLD
CONCLUSION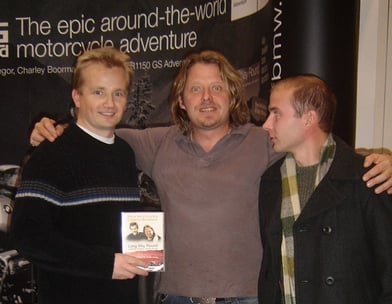 Our longest trip so far proved to be just what we expected. Unlike our previous experiences this one was a trip about the road, its difficulties and often breathtaking nature surrounding it. This was a trip about the wonderful warmhearted people we met, their curiosity and often unconditional help they provided. The difficulties of the road surely tested our bikes to their limits and also uncovered their weak points though in comparison to other travelers' bike problems, ours were rather minor.
Surely every traveler's dream is to ride around the world and it is also ours. Maybe one day this dream will be realized but for now we are more than satisfied with our achievement. It wasn't a true 'round the world trip but it was as close as we could get in the time available. I am so glad that Jacek decided to go with us. It was so much more fun and of course way less stressful. After several years of doing different projects it was great to ride together again. I just hoped that Kris, who actually made it to Poland safely in less than a month, would have ridden with us a bit longer.
So far we have no future plans unlike Jacek who already plans his next adventures. Maybe we'll ride again one day.
in Dec. 2005 during a motorcylce show, we met with Charlie Boorman from the Long Way Round, a great show. To set the record straight, we would like to state that we had an inspiration to cross Siberia long before the show was aired. We started planning, purchased bikes, plane tickets, etc., and only then found out that Boorman/McGregor had done the trip and the show.
In January 2006 during the Motorcycle Supershow in Toronto, Natasha and Greg received an Award of Excellence Riders of the Year 2005. We never meant to draw any attention but since our adventure was noticed, we certainly appreciated the recognition. Thanks a lot to Bar and Hedy, the organizers of the Supershow.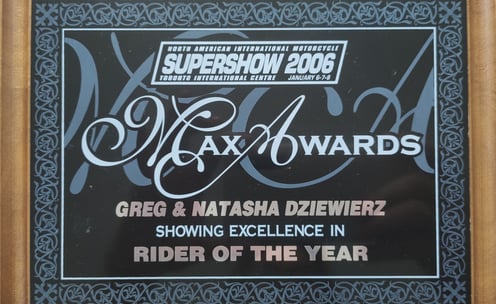 statistics Greg/Natasha
Dates: June 6 - Sept. 10

Countries visited: 16

Kilometers: 33 000 km

Gasoline: lots.

Motorbikes used: 2002 Kawasaki KLR

Punctures: 1

Pictures taken: lots.

Cost: high.
statistics Jacek
Dates: July 2 - Sept. 3

Countries visited: 9

Kilometers: 21 000 km

Gasoline: lots.

Motorbikes used: 1999 Kawasaki KLR

Punctures: 0

Pictures taken: lots.

Cost: high.