PREPARATIONS
This time my preparations didn't involve any visa-type paper work. I was going to travel on my Polish passport and the whole Europe was open for me. I flew to Poland not having a vehicle. After a few days of enjoying the company of my parents, my brother and my high school friends (I attended my high school reunion), it took me a few days to find the right bike. I bought motorcycle magazines, looked for Yamaha XTZ (at least I knew what I was looking for) and made some phone calls. I the next few days I travelled around Poland checking them out. Most of the bikes were either already sold, or in a really poor shape and not registered in Poland yet. I still wonder how can a motorcycle dealer offer a motorcycle that imported from Switzerland or Germany and is not registered in Poland!
I was losing hope. The last bike I was going to see was in Cieszyn, a town on the Polish-Czech border. This one had high mileage (60,000 km), but was in excellent shape.
The owner had driven her every day. It took me a few minutes to decide that it was going to be mine. I spent a bit more time negotiating the price. The next morning I picked up the bike and drove it to Torun (450 km). That was a great ride since there was no surprises - the bike simply ran "good."
On two consecutive mornings the battery failed. I had a mechanic fix some wire connections. I read that Teneres had faulty charging system. I was going to see if that was the case with my bike during the next few weeks. I registered the bike on my name, bought the green card (insurance for Europe - only $30 CAN per year), and off I went.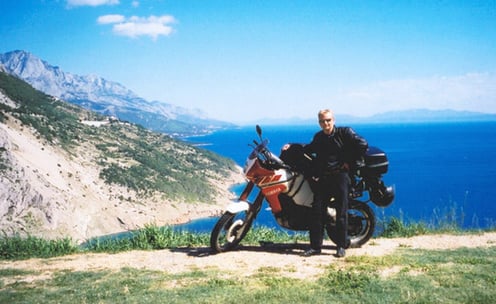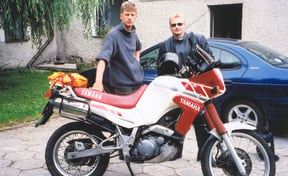 I left on Tuesday, July 8. First stop: Basilica in Lichen - still being built.
In Wroclaw I changed my rear tire from Czech-made Mitas to a used Michelin T66. Felt much better. I slept in Miedzygorze at a free campsite. Free is for me.
After passing Czech I arrived in Vienna early afternoon.
A friendly Austrian biker lead me a campsite, I pitched my tent and spent the rest of the day and evening walking and driving around the city.
Vienna.....
The next day I drove from Vienna up to Pula in Croatia, where I met my friends Monika and Radek who were just finished a 2-week choir camp there.
I spent next week travelling around Croatia.
I visited Rovinj.... ... the Kirk Island... ...
Trogir...
Split... .... and Dalmatian coast ...
I really enjoyed Dubrovnik.....
At on point I took a forest trail and barely managed to find the way out. Tenere enjoyed the trail very much.
Still in Croatia, closer to Bosnian border, different "attractions" started to appear: abandoned houses that used to belong to Serbs before they fled to Serbia.
BOSNIA, SERBIA, MONTENEGRO
Crossing the border between Croatia and Bosnia was no problem. ,
I stopped in Mostar .....
... and Sarajevo......
Still in Bosnia, I wasn't able to find a campsite, so I stopped at a bar, spoke to an owner and she happily allowed me to pitch my tent behind the her building. I tried to pay her, but she refused. I spent the evening in the local "joint" among happy, singing and a bit intoxicated locals.
The next morning before crossing the border with Serbia, I stopped for breakfast. Presence of a foreign biker was not common. It resulted in a friendly conversation with locals patrons of the restaurant. They actually insisted on paying for my scrambled eggs with bacon! They were very curious about economical situation in Poland in comparison to Bosnia.
I rushed through Beograd. There were a few damaged buildings, but less than I was expecting. My other stop included Smederovo and Unrjacka Bania, a popular spa town.
Entering Kosovo was a surprise. UN soldiers are controlling the border between Serbia and Kosovo. A soldier from Philippines checked my passport.
Kosovo....
Montenegro was a pleasant surprise with its picturesque mountains, gorges and beaches.
Moraca Gorge.....
Bay of Kotor.....
Budva...
Dutch biker on Motoguzzi....
Scuba diving in Budva....
STATISTICS
July 8 - August 5 2003. 4 weeks and one day.

Continents visited: 1. Countries visited: 12.

Kilometers: 9,461

Gasoline: 500 litres

Motorbike used: 1992 Yamaha XTZ 660 Tenere

Equipment failures/problems:

"Iffy" charging system. Battery discharged a few times - possibly no charging.

some loose crews.

Pictures taken: 350

Cost:

gasoline: $CAD 900

other: $CAD 2000

Total: $CAD 2900

Plus:

motorbike + papers, etc: $CAD 2775

flight from Canada: $1250
SUMMARY
Day 1, Tuesday, July 8. Torun, Poland - Miedzygorze, Poland. 453 km.

Day 2, Wednesday. July 9. Miedzygorze, Poland - Vienna, Austria. 311 km.

Day 3, Thursday, July 10. Vienna, Austria - Pula, Croatia. 606 km.

Day 4, Friday, July 11. Pula, Croatia - Medulin, Croatioa. 20 km.

Day 5, Saturday, July 12. Medulin, Croatia - Baska (Krk Island), Croatia. 229 km.

Day 6, Sunday, July 13. Baska, Croatia - Tagrir, Croatia.442 km.

Day 7, Monday, July 14. Tagrir, Croatia - Dubrovnik, Croatia. 298 km.

Day 8, Tuesday, July 15. Dubrovnik, Croatia. 79 km.

Day 9, Wednesday, July 16. Dubrovnik, Croatia - Sokolac, Bosna. 390 km.

Day 10, Thursday, July 17. Sokolac, Bosna - Unrjacka Banja, Serbia. 480 km.

Day 11, Friday, July 18. Unrjacka Banja, Serbia - Berane, Montenegro. 384 km.

Day 12, Saturday, July 19. Berane, Montenegro - Budva, Montenegro. 308 km.

Day 13, Sunday, July 20. Budva, Montenegro. 148 km.

Day 14, Monday, July 21. Budva, Montenegro. 47 km.

Day 15, Tuesday, July 22. Budva, Montenegro - Dhermi, Albania. 444 km.

Day 16, Wednesday, July 23. Dhermi, Albania - Igoumenitsa, Greece (ferry to Italy). 327 km.

Day 17, Thursday, July 24. Brindisi, Italy - Naples, Italy. 484 km.

Day 18, Friday, July 25. Naples, Italy - Rome, Italy. 320 km.

Day 19. Saturday, July 26. Rome, Italy. No riding.

Day 20. Sunday, July 27. Rome, Italy - Civitavecchia, Italy (ferry to Sardinia) . 165 km.

Day 21. Monday, July 28. Oblia, Sardinia (Italy) - Alghero, Sardinia. 520 km.

Day 22. Tuesday, July 29. Alghero, Sardinia - Bonifacio, Corsica (France). 200 km.

Day 23. Wednesday, July 30. Bonifacio, Corsica - Cargese, Corsica. 200 km.

Day 24. Thursday, July 31. Cargese, Corsica - Bastia, Corsica. 327 km.

Day 25. Friday, August 1. Bastia, Corsica - ferry to Italy. 201 km.

Day 26. Saturday, August 2. Livorno, Italy - Florence, Italy . 155 km.

Day 27. Sunday, August 3. Florence, Italy - Sillian, Austria. 674 km.

Day 28. Monday, August 4. Sillian, Austria - somewhere in Czech Rep. 496 km.

Day 29. Tuesday, August 5. Somewhere in Czech Rep - Torun, Poland. 753 km.
TOTAL: 9,461 km.