CUBA
2002, 2004
From a backpacker and a motor biker's perspective
PREPARATION
This paragraph will be short. Pack as little as you can. No visas required. End of story.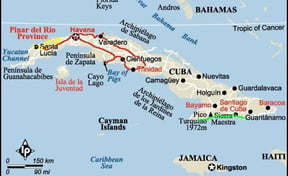 Legend:
___ '02 Bus/ taxi/ hitchhiking
___ '02 Rented 50cc Suzuki
___ '04 Bus/ taxi/ hitchniking/ Rented MZ250
BACKPAKING IN HAVANA 2002
After a 8-hour long flight (instead of 3), I arrived in Varadero around 1 after midnight. The plane was delayed, then it had to drop off some passengers in the Dominican Republic, and then we had to wait for the "fuel truck" to gas the plane up.
I checked in the Pullman Hotel around 2 a.m.
Not being a great fan of a beach, I left for Havana the next day. I spent 2 days there.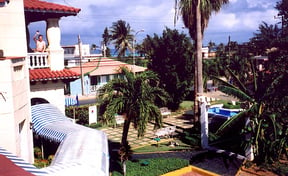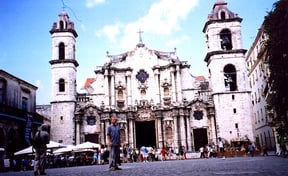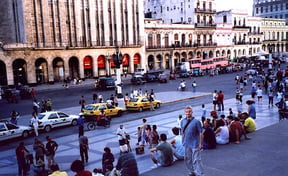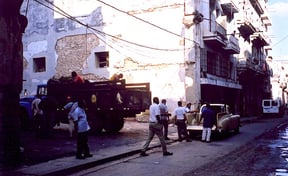 PINAR DEL RIO ON 50CC SUZUKI 2002
MATANZAS AND CIENFUEGOS
2002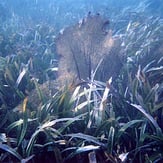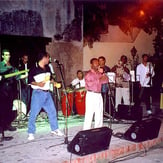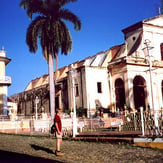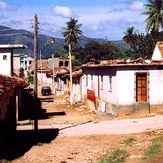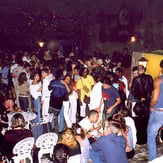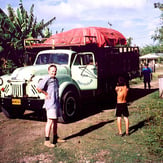 Nice place to visit.
Construction...
It was a nice break from a cold Canadian winter.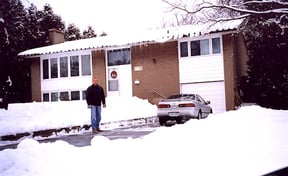 STATISTICS
December 21, 2002 - January 4, 2003. 2 weeks.

Countries visited: 1.

Kilometers on the motorbike: around 300 (speedometer was broken).

Motorbike used: Suzuki RMX50.

Equipment failures/problems:

broken speedometer;

chain should have been replaced;

really weak engine.

Pictures taken: 150.

Cost:

flight: $CAD 800;

other: $CAD 1400;

Total: $CAD 2200.
TRIP SUMMARY
Day 1, Saturday, Dec 21. Flight to Varadero.

Day 2, Sunday, Dec 22. Varadero and Havana.

Day 3, Monday, Dec 23. Havana Vieja.

Day 4, Tuesday, Dec 24. Bus/ taxi to Vinales.

Day 5, Wednesday, Dec 25. Vinales to Cayo Levisa (on the bike).

Day 6, Thursday, Dec 26. Cayo Levisa to Terrazas to Pinar del Rio (on the bike).

Day 7, Friday, Dec 27. Pinar to Cayo Jutia to Vinales (on the bike).

Day 8, Saturday, Dec 28. Bus to Havana. Havana Vadado.

Day 9, Sunday, Dec 29. Bus to Cienfuegos. Cienfuegos.

Day 10, Monday, Dec 30. "Taxi" to Playa Giron.

Day 11, Tuesday, Dec 31. Playa Giron (scuba). Truck/ "taxi" to Trinidad.

Day 12, Wednesday, Jan 1. Trinidad.

Day 13, Thursday, Jan 2. Trinidad.

Day 14, Friday, Jan 3. Trinidad. Bus to Varadero.

Day 15. Saturday, Jan 4. Flight to Canada.