2005 AROUND THE WORLD
CANADA TO ALASKA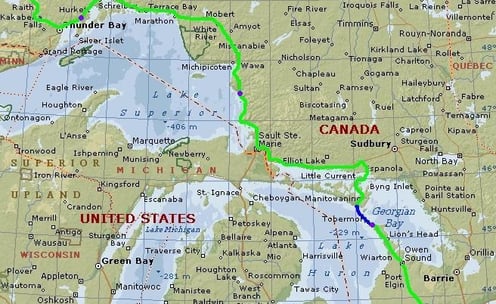 Day 1 – June 6, Hamilton Ontario to Tobermory – 304 km
Following several days of intensive preparations we still scrambled to pack all necessary equipment. What is it with all the trips that most of the packing is left for the last day. So it seemed that we had a lot of stuff but in reality it was just the matter of putting all those small things in the right places. In all we had 88 liters of luggage space plus a tank bag. It was very minimal and that is what we took, just what we needed.
In the late afternoon, with still a few hours of daylight, we left hour house uneventfully. I was very eager to ride but decided to go slow. After all we decided to accomplish something bigger than usual and in order to do it right we had to ride with caution not to mention about saving the bike for the further difficulties of the trip.
The weather was just gorgeous. We stopped for a while to enjoy Ontario's farming landscape. I have to admit, it is quite nice here. I really never before admired local farmland that much.
We stayed for the night near Tobermory on a nicely kept camping run by Mennonites. Two giggling girls dressed in the old fashion traditional attire welcomed us and also gladly provided detailed information about ferry departures to Manitulin Island. It was neither humid nor hot anymore and we wondered if our ultra light sleeping bags were going to keep us worm through the night.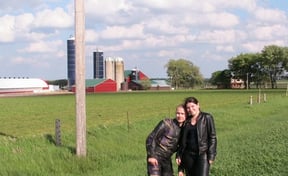 Day 2 – June 7, Tobermory to Lake Superior PP– 510 km
Early wake up was a must. We had to be at the port before 8am to board the ferry.
Quick assessment of the sleeping bags: so far they were good but the temperature at night did not fall below 10C so a tougher test was required.
At the terminal we joined in line two rather quiet bikers on some Japanese cruisers. We did not seem to be curious about each other's destination.
The upper great lakes are a wonder of their own. They are the largest bodies of fresh water on earth if it goes to their area. On the ferry we had a decent breakfast and enjoyed magnificent views of Lake Huron. What a relaxing way to start our journey.
We decided to take this route mainly to avoid the multilane highway and to see what's here, of course. Apparently the many small towns on the island host numerous summer festivals. Unfortunately we were too early. We spotted a chain of exotic small convertibles. Their owners dressed in warm sweaters wore old style leather helmets just like they did in the sixties.
Trans Canada highway is supposed to be the longest uninterrupted road in the world. We joined this route and headed west, in the direction of the falling sun. More lake views followed as the road hugged the lake.
In Sault Sainte Marie we stopped at a huge supermarket to consider our lunch options. The choices were very encouraging and the prices too. Fresh salad, BBQ chicken and roasted potatoes made our meal, mniam.
Lake Superior appeared like a giant. With its rugged coast it was different and interesting to watch. The lake never actually warms up to more than 15C and its huge body creates its own climate around it. The weather was still nice but it became more dump and cold. We stopped right on the lake in a nicely organized picnic area. I bet in the season we might have been asked to leave but now there was no one there. We hid in the woods and peacefully fell asleep listening to the waves breaking against a rocky shore.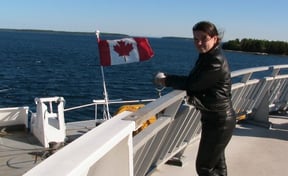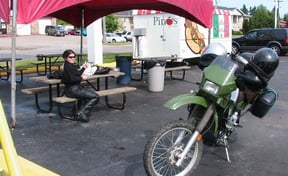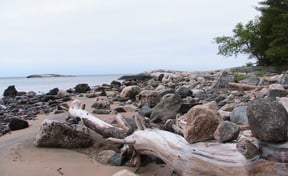 Day 3 – June 8, Lake Superior PP to Mirror Lake– 500 km
A slightly lower temperature and very dump air made the night way colder further testing our sleeping bags but not yet making them useless. Refreshed with a chilly 12C we put everything we had on and rode off. The scenery might have been more inspiring if the weather cooperated. Unfortunately it was most of the time wet, foggy and pretty cold. Frequent road construction also made it a long and slow ride. Though dressed in our full rain gear, we shivered and hoped for a better day. It still drizzled when we pulled into a privately owned RV park. The manager already left for the night so we helped ourselves. Great, they even had hot water. Natasha was so relieved and I wanted to warm up my feet so much.
Day 4 – June 9, Mirror Lake to Falcon Lake, Manitoba– 616km
It rained whole night and it still drizzled when I went for a morning run.
Dressed in rain gear we left this nicely situated lake side park, though not before we had our morning coffee (compliments of the management).
In Thunder Bay we had yet another glance at the magnificent Lake Superior. This time it was a very clear view since the clouds gave way to a lot of sunshine. Yeah! Raingear goes off.
Pretty rolling hills of Northern Ontario continued past Kenora. Then there was nothing else to see but a CP train so we starred at it for miles. Tonight accommodation, a province run organized camping where no one cared if you paid or not. Well, we arrived too late to find out.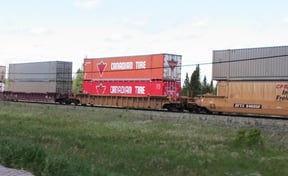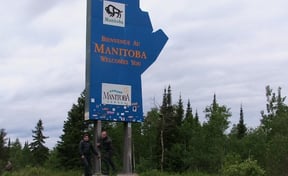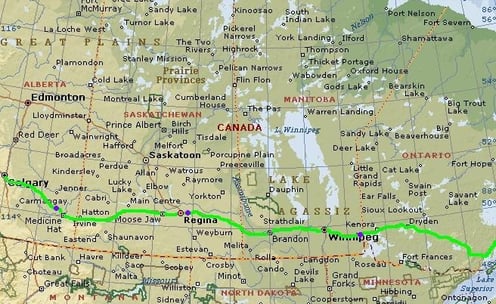 The Prairies
Day 5 – June 10, Falcon Lake to Dyerstrait Camping before Regina, Saskatchewan – 710 km
We met the first Manitoba freak at a gas station. Aren't people from here a bit similar to folks from Newfoundland? Somewhat weird? Actually the guy was from Newfoundland.
Today's attraction: Winnipeg, the capital of the eastern prairies. It is a nice and modern city with all the usual grid streets and some tall buildings. We cruised for a while, got the feel for the city, saw some more weird Manitoba freaks and took off.
On this trip we decided to enter all the major cities on our way just to look for their differences.
The owner of the roadside camping welcomed us with a smile. He showed me to the facilities and proudly stated that he had hot water. I paid him a small fee and he went back to spraying mosquitoes. Tonight I used my old Russian stove to cook a meal, I think it was some sun-dried tomatoes soup. We ate it with mosquito nets on our heads and to cheer up drank some cognac.
Day 6– June 11, Dyerstrait to a field after Medicine Hat, Alberta – 507km
Still on Trans Canada #1. In Regina we stopped at Walmart garage, the best oil changing place. Friendly mechanics lent me their tray so I could safely drain my old oil without damaging precious Canadian environment and their newly asphalted parking. Thanks guys. When we were doing the usual zoom around the city we were literally pulled over by a KLR lover. He was really interested in the bike's outfit especially the engine guard and tank guards. Nice guy, we shared some stories and split.
Regina seems to have a bit more substance in its statue than Winnipeg, though it still feels like a place in the middle of nowhere. Flat farmland views with the odd rolling hill accompanied us most of the time. We stopped for an ice-cream pretty much in the middle of nowhere. Very curious, who on earth put an ice-cream shack here?
Who said you have to go to Mongolia to experience off-roading? Here in Alberta we saw many dirt tracks protruding from the main highway. I just took one of those tracks into a field and we settled for the night. It did feel a bit like in Mongolia.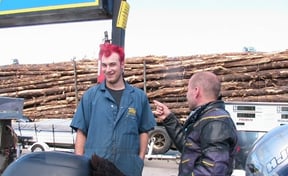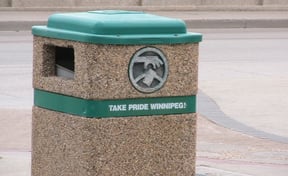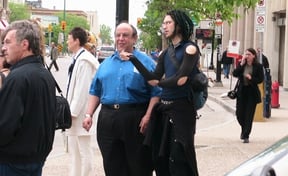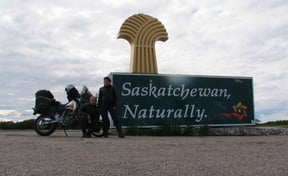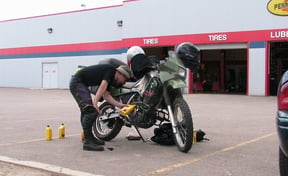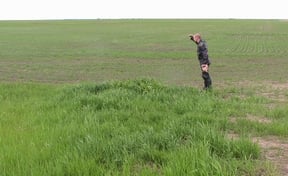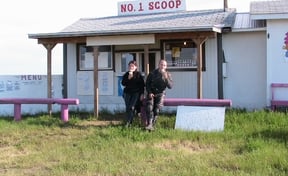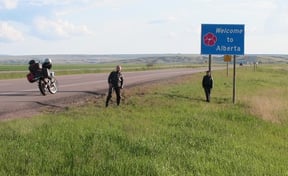 Who said you have to go to Mongolia to experience off-roading? Here in Alberta we saw many dirt tracks protruding from the main highway. I just took one of those tracks into a field and we settled for the night. It did feel a bit like in Mongolia.
Day 7 – June 12, Medicine Hat to Bow River camping by Canmore– 414km
We explored Calgary under a heavy cloud cover and we knew it could start raining anytime.
The city was very different from Regina or Winnipeg. It seemed very compact and full of interesting ideas. We spent a couple of hours admiring contrasting architecture and modern artistic structures, it was so appealing. Unfortunately heavier clouds rolled in and it started to rain. Dressed in full rain gear we climbed the #1 towards Banf. It wasn't really cold but it poured heavily. In Canmore we stormed the local Sobey's supermarket. Their BBQ chicken was just what we needed to restore all the energy and warm up our limbs. Local RV park did not want to take us but they recommended a near by self registration camping. It was actually a very nice place situated near a river and with lots of tree cover. In the evening drizzle we set up our camp in a hurry. There was no one there and it was still out of season but a service vehicle still showed up late at night to check if we registered.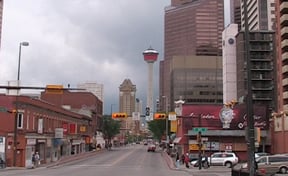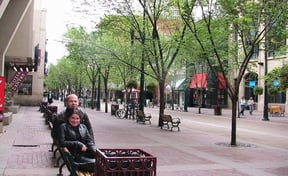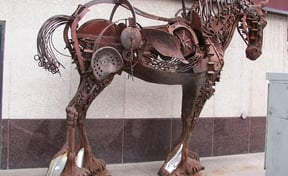 Day 8 – June 13, Canmore to camping by Jasper – 347 km
A beautiful morning encouraged us to start early. Upon entry to Banff National Park every vehicle has to pay a fee. I guess it is a justifiable charge.
We were so glad the weather cooperated. We could now truly enjoy the splendid views of the Rocky Mountains. After a relaxed breakfast in Banff, a place of wooded mountain cottages, we were off to see the Lake Louise.
The lake is actually some distance off the main road, higher in the mountains. With the rain and sun playing games with us we managed to have a little stroll around the lake. It was just like we saw on postcards but this time a bit foggy too.
Since we rode north following the Ice Field Parkway towards Jasper the altitude increased, the temperature decreased and finally at the top of one of the passes it snowed.
It was dangerous and fun at the same time. For a moment I couldn't see a thing.
What a feeling it is riding through a cloud of freshly evaporating moisture, being surrounded by breathtaking snowcapped picks and at the same time enjoying the warmth of the sun. Is it heaven? The Rockies are simply wild and I think because of the limited surrounding civilization more beautiful than the Alps.
Our next stop: The Athabasca Glacier. Here we actually took a guided tour. A very slowly moving mammoth vehicle took us up to the top of the glacier where we were let off to take some pictures and enjoy more views. It was actually a very informative tour with the guide/driver explaining how the glacier is gradually retreating and that in a couple of years the Ice Explorers may stop running.
Further towards Jasper the weather was more cooperative. The altitude dropped to 1000 meters and we could enjoy milder temperatures. We spent the night at a National Park campground with unlimited firewood.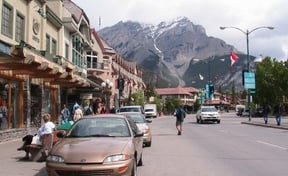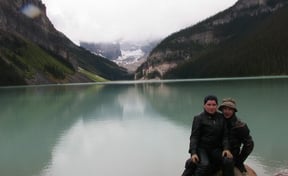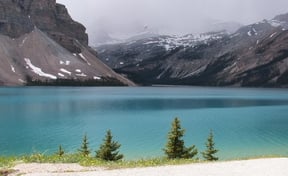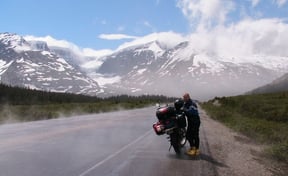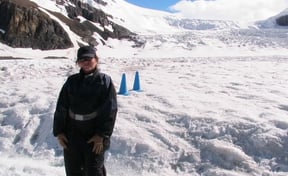 Day 9 – June 14, Jasper to Thomson Valley Camping, BC– 522 km
Today more beautiful mountain and a quick look at the highest pick in Canada, Mount Robson. Unfortunately it was in clouds. Today it rained again all the way to Kamloops. In town I had to visit Walmart again. My mattrace gave up on me and I had to get another one.
After Kamloops we witnessed quite an extraordinary phenomenon. Following the Fraser River and passing under the brink of a heavy rain cloud we stopped at the edge of the cliff to see a double rainbow. It was like in a cartoon, so colorful and happy. We took it as a sign of good luck.
Tonight we slept in a beautifully situated camping though with rail tracks on both sides of the valley. It was loud but I think we got used to it quickly.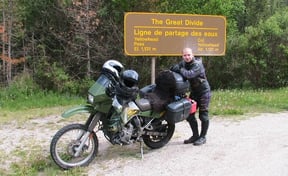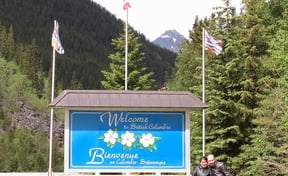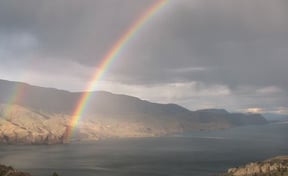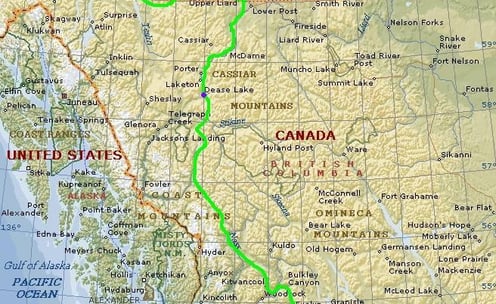 Day 10 – June 15, Thomson Valley to Klahanie Falls – 431 km
We followed the Frazer River all the way to Vancouver gradually descending towards the big city. The city looks from far away very similar to San Francisco. Lots of water all around, large bay, long bridges and nearby mountains contribute to the final composition. We crossed the bridge to West Vancouver and headed for Squamish. We found a very nice place at Klahanie Falls, right by the ocean. It was a sort of moist rain forest large tree type area. In a way one leg of our journey was completed, we reached The Pacific Ocean ones more. We celebrated by finishing up our small bottle of rum.
Day 11 – June 16, Klahanie Falls to Vancouver and back – 216 km
We started the day with a visit to a local joint. I hope I could call it a restaurant or at least an eatery. Well, I guess not, I could not even call it that. It was a dirty, decrepit place with falling off wooden fixtures, moving uneven floors and peeling paint. What a sorry site and they called it a popular and even famous restaurant, The "Ninety Niner".
We spent the day riding around Vancouver, looking at people and just relaxing. We visited Stanley Park, saw the totem poles and walked around and on the suspension bridge in the Capilano Park. I guess there are many other attractions in this cosmopolitan city but we couldn't see everything in one day. Maybe we come back here one day.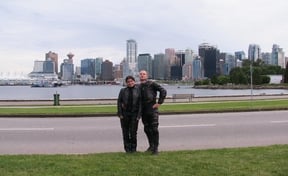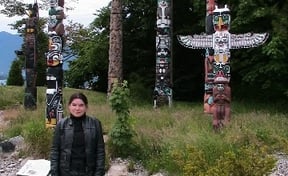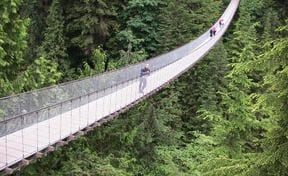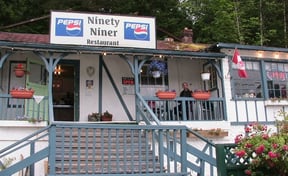 Day 12 – June 17, Klahanie Falls to Clinton –302 km
Clouds covered the sky and in Whistler it started to rain lightly. We headed north towards Carquile. It was a wet and slow ride on the twisty #99 and the relatively small distance took us a good half a day to cover. Today high up on a logging road we saw our first bear. It was just a little cub and his mother could be near. It was better to keep going.
Already on #97, passing through a town of no name, our KLR started to choke. The problem did not seem very serious, nevertheless we could not continue like this. The bike simply did not want to reach high RPMs and it even stalled on idle. I asked for some shelter at the gas station so I could at least see what is wrong but the oriental attendant unpleasantly barked something at me so I left. It kept raining and we really had no choice but to go to a nearby motel. A very pleasant motel owner gave us a room on the first floor and had no problem with me fixing the bike under a small canopy in front of the door as long as I didn't make too much noise.
It was actually a good idea to sleep in a warm place. Natasha relaxed watching some TV and catching up on the news and I got busy looking for a possible problem. I cleaned the carburetor thoroughly, washed the air filter (it was filthy) and checked the fuel supply. I put all back in order, fired up and……..yeah! It worked. The bike idled normally and seemed to rev without problems. Did I fix it? I guess I did.
Day 13 – June 18, in Clinton – 22 km
It was so good to sleep on a normal bed. Fully energized and not deterred by continuous rainfall we mounted the bike. It fired up at once and we happily rode off.
Our happiness did not last too long. As soon as we left the town I wanted to gain some speed but our poor KLR didn't want to cooperate. It continued to choke on higher RPMs.
Slowly we made it back to Clinton where I approached I think CARSTAR garage. The people inside let me know that they are not interested in helping me and I should move on. There weren't that many places in Clinton to look for assistance so I thought to go back to the motel.
As a last resort I thought I ask for help in a very curiously looking building, a place with everything and anything, a flee market/antique place/junk stuff kind of place. It looked like out of a movie inside this curious place. There was junk everywhere but you could walk around and pick what you wanted or rather what you could find.
A very pleasant older lady wearing a grey sweater wasn't sure if she could help but I think she went to call her boss. In a few minutes from the back of the building came out a very happy, tall gentleman with grey beard. Without really much talk he opened his shed and even asked if this would be ok. I looked at more junk inside the shed and said it was just great. Here I went again preparing the bike for another carburetor disassembly. In the process of fixing the bike I asked Jim, that was his name, for many things: screw drivers, fuel hose, gas container, paint thinner, vacuum, air compressor and amazingly he produced all of these. If this wasn't enough, he let me: phone my friend in Hamilton for free several times, use the internet to get carburetor's diagram, use his washroom and at the end when I was unable to fix the problem by the evening he offered to take us home. We suggested that if it is ok with him we could stay in his shed. He had no problem with that. This night we slept on a junk mattress in a shed in Clinton, BC with the immobilized bike right beside us. I fell asleep feeling sad and worried. Would we make it on time to Anchorage? Was this the end of the trip? Could I fix it? Dark thoughts occupied my mind. It continued to rain.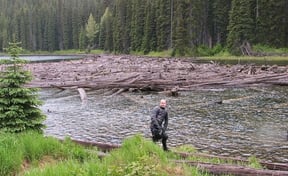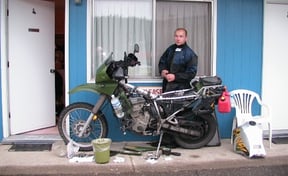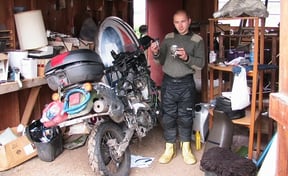 Day 14 – June 19, Clinton to Rose Lake– 655 km
The morning welcomed us with a lot of sun. Immediately I started to put the bike together. Soon I was ready to test it again. What is the problem with it? It was better now but it still choked occasionally on higher RPMs. I decided to wash the air filter again but this time in gasoline. Before we left Hamilton I soaked the air filter in special oil, a sticky substance, which was supposed to eliminate all the dirt. Well, it certainly did and it also partly clogged the filter. Amazingly I was able to wash away the substance. This time testing was successful. I thought I was going to explode from happiness. It was for sure a very stressful situation since making it to Anchorage was way too important.
We said big thank you to Jim Wood and left his "Clinton Emporium" at about noon.
North on #97 and west on TC16, we enjoyed the ride looking at beautiful BC, its clean lakes and wild rivers. We spent the night by a small lake with a free public camping. Free firewood and tent shelter were included. It seemed very unusual.
Day 15 – June 20, Rose Lake to Dease Lake – 727 km
Initially I thought Cassiar Highway was entirely a gravel road. When we arrived to the junction at Kitwanga we found a very detailed tourist map of the whole route. Surprisingly there were only few short gravel sections, the rest was already paved. Still they recommended filling up and taking some food since it was considered a remote highway. Today we saw more wild scenery, another mountain range and another bear crossing the road. This time it was a big one. Fortunately it was relatively far and the animal disappeared in the woods quite fast. I think the bear was more scared than we were.
The surroundings felt really remote. Few cars on the road, infrequent gas stations (every 300 kms) and lots of beautifully preserved nature, awesome.
Tonight's accommodation: a privately owned basic camping by the lake. We were already above 58th parallel and the day was so long we didn't notice when the clock struck midnight. It was still quite light..
Day 16 – June 21, Dease Lake to Teslin, Yukon – 467 km
This morning we packed our gear in the light rain. Was it bad luck or just normal weather here? We couldn't even enjoy the ever changing scenery; it rained all the way to Yukon. Going through yet another gravel section made us and our KLR look like clay statues. As if it wasn't enough, the rain intensified and it got bitterly cold. It even snowed for a little while but being back on tarmac I didn't worry about it.
Every part of our bodies was shaking when we arrived to the junction with Alaska Highway. I even considered staying at the motel but after we had a hardy hot meal we felt warm again. It was better to ride though the rain cloud than get stuck in it. Shortly after we got rid of the clouds but since it was still cold we had to stop to warm up a bit. A "tough" Harley rider complained about the cold while warming up by the fire. I couldn't understand his way of thinking; it was bitterly cold and he had an open face helmet and no windshield. I think it was just stupid.
Summer solstice was in the air and party was about to begin, not for us, for the local Indians in Teslin, Yukon. Though the grocery store clerks were white, all the shoppers I saw were Indians. I think it is an important day for them. They were all mentioning "solstice" and in general were very pleasant.
For tonight's accommodation we decided to check out a log cabin recommended by the store clerk. At the Nisutlin Outfitting I was approached by a smiling woman who was happy to invite us to one of her cabins. For only 10$ we had a bed, table, chair, a wood stove and lots of mosquitoes. In all quite a decent accommodation and most importantly worm.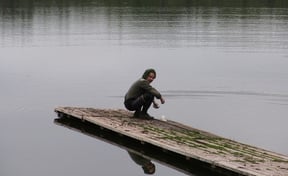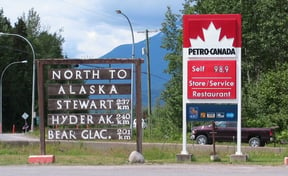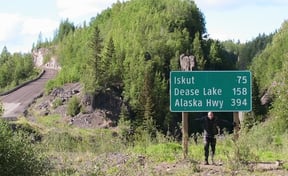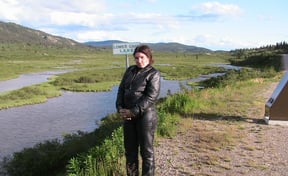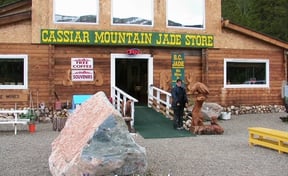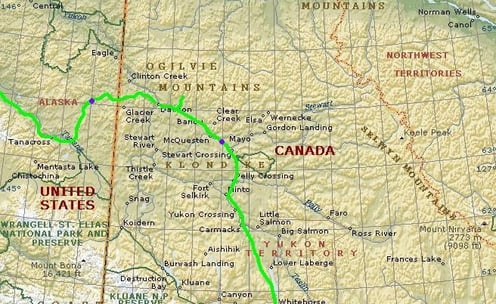 Day 17 – June 22, Teslin to Moose Creek Provincial Park - 574 km
Martha was a German immigrant who came to Saskatchewan some 20 years ago. There she met her future husband. One day they bought an old school bus, decided to pack their things, and kids, and headed for the open space of Yukon. They started from scratch in Teslin where they built a wooden house, in which they live now, plus two log cabins. They are in the process of building another, larger, two storey log house. Their life is pretty basic yet healthy. The kids, rather than attending school, study at home with mom while dad runs an outfitting base, out of home, for fishing or hunting. Trying to save on electricity they use solar panels and go to sleep at dawn in their tents, inside their house, to avoid mosquitoes. It was a very friendly and relaxed family. When I asked why they came here the response was-"for the open space and fresh air".
Today's feature was the weather, warm and sunny. With the clear sky we enjoyed awesome views of wild Yukon. In Whitehorse it was a nice 22C. The theme of the region is gold mining and a large portion of the city's architecture preserves this feel. We enjoyed beautiful views over the Yukon River, observed some Indians, changed oil in our KLR at Walmart, again, and left the city for the great unknown.
Along #2 it was a very sad scene with all the trees burned. They had several massive fires in the area. In some places trees started growing back, in others they were burned to the ground.
Spent the night at the Provincial Park camping as the only visitors, free.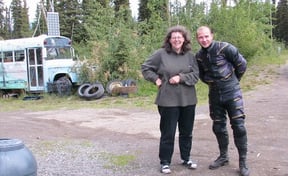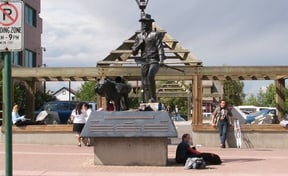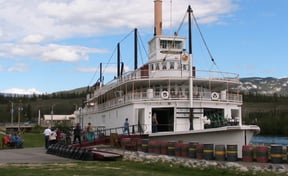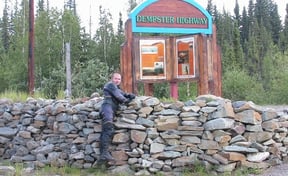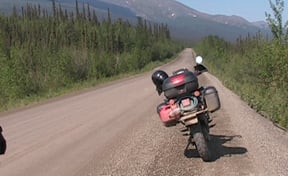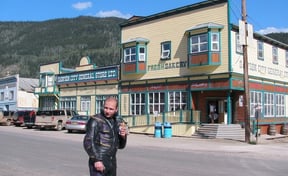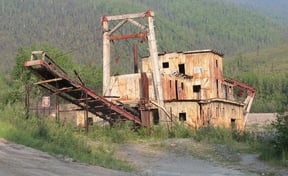 Day 18 – June 23, Moose Creek to Chicken, Alaska, USA – 401 km
Beautiful weather again. Though we were at the mouth of Dempster Highway, because of the time lost earlier in Clinton we could not continue further up to Inuvik. We might try again another time. For now our focus was the city of Dawson Creek and Top of The World Highway.
Dawson's gold rush legacy is the main feature of the town. The main street looks almost like a hundred years old theme park with souvenir shops lined up along a wooden board walk. It is a very relaxed place with an old charm attracting quite a number of tourists.
We took a ferry across yet larger Yukon River. On the other side it was the only road going to Alaska. More stunning views of the wild north as we preceded on the gravel road with some asphalt patches to the most northerly US border post, Poker Creek. A very pleasant, young officer, checked our passports and let us goes. At the moment we were his only customers.
The scenery changed to more rugged mountains as we descended on a gravel road. On the way we stopped at the historic "Jack Wade Gold Dredge", a rusty monument to the past and in a way present of Alaska. At this latitude and in late June it is daytime all the time here. Completely confused and unable to decide whether to go to sleep or maybe continue riding we set up a camp at the RV Park (rather a parking lot) in Chicken. After having a story sharing time and a few "laughs" with young Dutch tourists I slipped into my sleeping bag and managed to find a darkness of my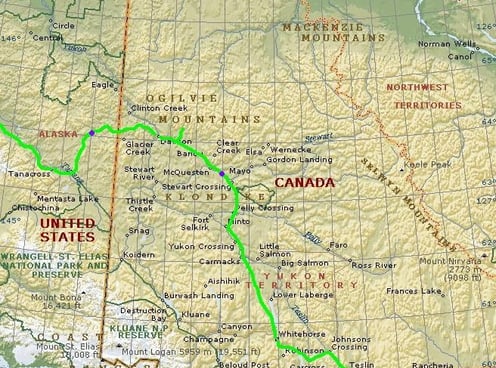 Day 19 – June 24, Chicken to Riley Creek, Denali NP – 686 km
Chicken is a popular place among American tourists as a place where they can still search for gold. It was sort of a sorry site to look at rich RVers panning for gold in a long tub. I guess it is their past time activity, or isn't it. Soon the gravel road ended and we were back on the tarmac following the Tanana River towards Fairbanks.
Unbelievable site, it was a huge valley and in the middle of it meandering river or rather many small rivers. Water was everywhere. Fairbanks was definitely the furthest point north we have ever been, N64 50. It started to rain a bit but it wasn't cold at all.
On the way to Denali NP we experienced a bit of mud riding. Parts of #3 were under construction and I had to ride through sections of slushy mud. It wasn't really deep, maybe 20cm, but for sure very slippery. With the road tires I had on it was a first gear crawling speed, luckily no spills. It just made me think what it might be like in Siberia.
We reached the park's entrance quite late and all the registration facilities were already closed. Actually it ended up to be a better thing for us as we didn't have to pay for the first night. We located a vacant camp site after making several circles around the "city of RVs".
Day 20 – June 25, Denali NP – 53 km
In the morning there was already a note left on the campsite's post: "please register in the tourist center". The camping host, a dedicated retired man, already did his tour around the facilities and spotted illegal campers.
We visited the tourist center, legalized our camping, got some information about tours to Mount McKinley and used the washing facilities. Hot water, yeah! Later we took a short trip inside the park to the point where private vehicles are no more allowed. Unfortunately to see the highest mountain in North America one has to take a six hours bus tour to the center of the park, an expensive and long excursion.
In the valley it was relatively warm but at times heavy rain would come and go, typical mountain weather. We spent the rest of the day relaxing by the campfire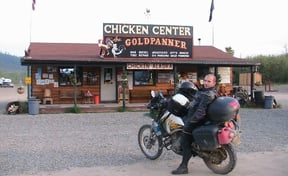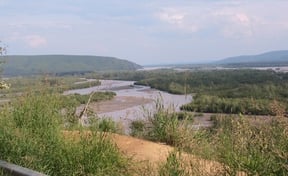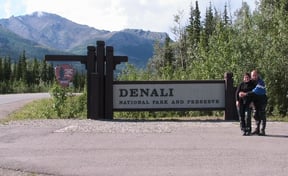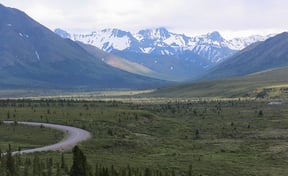 Day 21 – June 26, Denali NP to Ship Creek RV Park, Anchorage – 508 km
We had a last look at the Alaska Range trying to pinpoint Mount McKinley among other tall mountain picks. As we went south and away from the big mountains the weather cleared and it was warm and sunny.
The first impression of Anchorage seemed to be rather neutral. The city didn't differ much from most of the American towns. We stopped at Mayer's Super Market with Sears and other big stores in site. I made a phone call to Kris's wife in London, Ontario to give her our whereabouts and we waited. In about 2 hours we spotted a big guy on a KTM Adventure chasing cars and looking in all directions. We made a lot of noise, waved our hands and at last we were noticed. Great, everything went by the plan.
We found a very conveniently located RV park very close to the center of the city. The weather was great, Alaska beer was decent, we were in Anchorage, we couldn't ask for more.
Day 22 – June 27, in Anchorage - 12 km
A very busy day. We retrieved Jacek's bike from the shipper, put it on wheels and delivered it to our camping. At the airport we visited Natasha Johnson, Magadan Air representative, and found out that our bikes would have to be delivered to their warehouse on Thursday. Another good news was that Mrs. Johnson arranged our bikes to go on the plane as luggage, not as cargo. This was very convenient as we would bypass a long list of red tape.
Back at the camping we started servicing our bikes. Together with Jacek's bike came our tires and other spare parts. Kris and I changed our road rubbers to Pirellis MT21, I attempted to change my front sprocket but had no proper tools and Kris decided to do valve adjustment in his KTM. Everything went quite well until I heard Kris asked me if I saw his small allen key anywhere. Though we checked everywhere we couldn't find it. We both imagined the unthinkable but the unthinkable was actually the reality. The small Allan key somehow fell inside the cylinder head. The next couple of hours Kris spent trying to fish the key out of the cylinder with a small piece of magnet. In the mean time we contemplated about the possibility of servicing his bike at the local KTM dealer. It was a very intense situation though at the same time pretty funny. Using several techniques, after fours of painstaking fiddling he finally managed to get the key out. I think it was the most stressful four hours of his life but he coped well.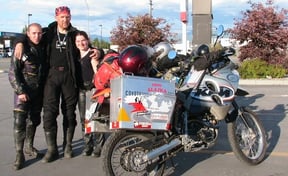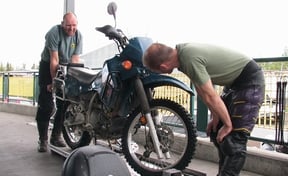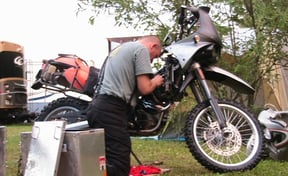 Day 23 – June 28, in Anchorage - 33 km
Today we did more repairs and some shopping. I replaced a broken spoke, changed the front sprocket, changed oil and Kris went through a complicated procedure of changing oil in his KTM. In the evening we relaxed and talked to a very friendly and helpful full time motor coach travelers Ron and Loretta. They invited us for lunch to be held tomorrow.
Day 24– June 29, in Anchorage - 10 km
We woke up a bit late and before we knew it we were sitting at the table with Ron and Loretta, eating BBQ steaks, drinking beer and enjoying each other's company. We found out that Ron and Loretta were a retired couple who sold their home and bought a huge, and I am talking huge, motor home. For greater convenience they tow a passenger car, carry a small motorcycle, bicycles and store in their cargo space all equipment you can imagine. Ron produced a compressor which pumped my tires in few seconds.
Hey guys, thanks for lunch and great company. I hope you can ship your vehicle to Europe one day. I think you would enjoy it.
Day 25 – June 30, Ship Creek RV park to the warehouse at the Airport - 13 km
Late that day Jacek arrived. Because or time restrictions, he couldn't ride all the way through Canada and Alaska. Instead he flew. As a complete 4-person team, we collected all our belongings and headed for the Airport. A very helpful loading manager greeted us at the nearby warehouse. We drained the remains of the fuel, took the luggage off and rapped the bikes and spare tires thoroughly with cardboard and other handy materials. The loading manager assured us the bikes would be loaded in the plane's cargo hold the next morning. He was going to supervise the procedure. What a nice guy, he even drove us and our luggage to the airport. Thanks.
We spent the rest of the day, the evening and the night wondering around the airport, checking our GPSs, charging batteries, making small talk with other people and later trying to sleep, not an easy task. Jacek decided to repack his boxes and placed most of his stuff on the floor occupying a considerable space. I think he was about to set up his tent but…..well, he didn't.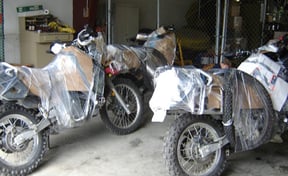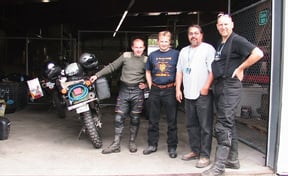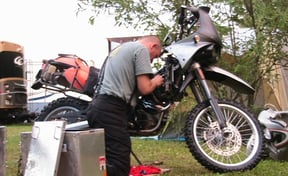 Day by day
Canada and Alaska
Day by day in Canada and Alaska (9540 km):
Day 1 – June 6, Hamilton Ontario to Tobermory – 304 km
Day 2 – June 7, Tobermory to Lake Superior PP– 510 km
Day 3 – June 8, Lake Superior PP to Mirror Lake– 500 km
Day 4 – June 9, Mirror Lake to Falcon Lake, Manitoba– 616km
Day 5 – June 10, Falcon Lake to Dyerstrait Camping before Regina, Saskatchewan – 710 km
Day 6– June 11, Dyerstrait to a field after Medicine Hat, Alberta – 507km
Day 7 – June 12, Medicine Hat to Bow River camping by Canmore– 414km
Day 8 – June 13, Canmore to camping by Jasper – 347 km
Day 9 – June 14, Jasper to Thomson Valley Camping, BC– 522 km
Day 10 – June 15, Thomson Valley to Klahanie Falls – 431 km
Day 11 – June 16, Klahanie Falls to Vancouver and back – 216 km
Day 12 – June 17, Klahanie Falls to Clinton –302 km
Day 13 – June 18, in Clinton – 22 km
Day 14 – June 19, Clinton to Rose Lake– 655 km
Day 15 – June 20, Rose Lake to Dease Lake – 727 km
Day 16 – June 21, Dease Lake to Teslin, Yukon – 467 km
Day 17 – June 22, Teslin to Moose Creek Provincial Park - 574 km
Day 18 – June 23, Moose Creek to Chicken, Alaska, USA – 401 km
Day 19 – June 24, Chicken to Riley Creek, Denali NP – 686 km
Day 20 – June 25, Denali NP – 53 km
Day 21 – June 26, Denali NP to Ship Creek RV Park, Anchorage – 508 km
Day 22 – June 27, in Anchorage - 12 km
Day 23 – June 28, in Anchorage - 33 km
Day 24– June 29, in Anchorage - 10 km
Day 25 – June 30, Ship Creek RV park to the warehouse at the Airport - 13 km